At Capture Your Path Counseling, you will find compassion and guidance while navigating through life's challenges.
Capture Your Path Counseling is a counseling practice conducted by Geri A. Condon, a Licensed Clinical Professional Counselor for over 20 years. Geri offers counseling to individuals, couples and families dealing with a variety of issues.
Experience and Understanding
Understanding that every client is unique, Geri will work with you to uncover the root of what is causing you to seek counseling. She will identify where you would like to be in life and what steps can be taken to achieve the path to a better life.
Geri has training and experience working on challenges such as:
Anxiety and Panic Attacks
Marital Issues and Divorce
Grief and Sudden Loss
Depression and Suicide
Stress, Crisis, Abuse and other life struggles
Individualized Counseling
Geri believes in order for treatment to be effective, both the therapist and the client must be invested in the outcome.  She will provide sessions that are individualized to your needs.  In return, you will find that the most successful outcome will be created when you are willing to make changes. Together a new path for your future will develop!
---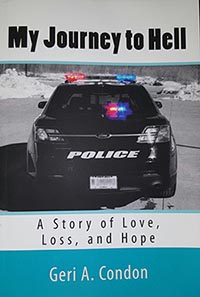 My Journey to Hell: A Story of Love, Loss and Hope
By Geri Condon
Life is a journey but this was not the path that Geri expected to take. Suicide happens in a clients' life or on the television, not up close and personal to someone in her family. She never expected the complete shutdown she now experiences whenever she sees a police squad car with lights shining and a siren blaring. She fights the vice like grip around her heart and she struggles to take a breath. Navigating through warning signs, expectations of leaving a child in a mental health hospital, emotional bombardment, and many other factors of dealing with a loved one who has attempted suicide can be overwhelming. Geri uses her first hand experience along with her counseling training to help others through the trauma of coping with a loved one's attempted suicide. Her story of what she has experienced with her son will bring you to tears, but will also prepare you.